Houston Outdoor Fireplace
A Houston outdoor fireplace was not all the rage in the 80's. In the eighties, entertaining was all about ostentatious displays of extravagance. The more conspicuous and flashy, the better. People would rent out expensive clubs and mansions to host their friends and they, in turn, would attempt to go even flashier in their next event. All this opulence ended in a dire financial crisis for the entire country, when the market crashed due to people financially overextending themselves in their misguided efforts to impress the neighbors.
From The 80's Until Today…
The nineties ushered in entertaining on a much smaller scale. Many people could no longer afford the one-upmanship of the 80s, and the glamour lost its appeal. Many times people just stayed home and watched television or hung out with friends at local bars. The music of the 90s is known as "grunge" and this was a catch word of the times. People wore "grungy" clothes and just hung out.
Turn of The Century Houston Outdoor Fireplace Trends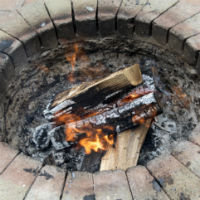 Since the turn of the 21st century, the entertaining trend has increasingly turned back to the home. Home construction has even changed to accommodate this trend; the open concept home is all the rage now so people can actively participate with their guests even while preparing meals.
The trend of home as entertaining space continues to grow, with backyard entertaining on a major upswing. People are adding all kinds of amenities to their backyards to make them more comfortable. In order to extend the length of time you can use the backyard, it becomes natural to consider either a Houston outdoor fireplace or an outdoor fire pit. But which one? How do you decide?
Houston Outdoor Fireplace For Large Groups
There are some differences, but both offer a warm and inviting gathering place for family and friends. However, the most obvious difference is the number of people that can gather. If you have mostly small, intimate, possibly a bit more elegant or romantic gatherings or plan to use this as an everyday place to relax with just the family, the outdoor fireplace may be more desirable for you. Conversely, if the plan is to have large scale gatherings around the fire, a fire pit may be better for you, as a lot more people can enjoy the fire pit at the same time. In addition, the fire pit lends an air of rustic, casual charm to a gathering.
Outdoor Fireplace Pricing
Price may or may not be an issue for you. Constructing a fireplace will most likely include hiring a mason and/or acquiring permits and inspections before and after the build. The price can vary anywhere from $4,000 to a hefty $20,000. However, keep in mind that this will be a permanent addition to your backyard and is a major investment that will be a factor when you go to sell your house. Lastly don't forget to factor in grading the property before construction.
On the other hand, having a fire pit built for you can run anywhere from $2,000 to $5,000. However, if you are handy enough to build it yourself, you can probably get it done for about $500. This is a vast difference from the fireplace, so if finances are an issue for you, it seems the choice is getting a bit easier.
Outdoor Fireplace Location
Your location will also be a factor in your decision. If you live in a flat area that has a lot of wind, a fire pit could actually put your home and surrounding buildings in danger of fire, especially in areas prone to droughts. With that being the case, you would probably be better off with a fireplace. If you do choose a fire pit, the times you can use it may be severely limited by the weather. A fireplace is immune to the wind and would be a safer alternative in this situation.
Another factor to take into consideration is the look of your backyard and the surrounding area. If your backyard has a view of the ocean or the mountains, you won't want to block it with a tall, bulky, fireplace, unless you have an out of the way place for it where it is not blocking the view. But a fire pit may actually be right for you: imagine how relaxing it would be to sit at a fire pit with an unobstructed view of your yard without having to look around or over an obtrusive fireplace.
Review Options Then Call The Pros
So, weigh all your options and when you are ready to add a fire feature, whether it is an outdoor fireplace or a fire pit, you can trust the Houston outdoor fireplace & home improvement Pros to take care of things for you.